// Accents
Using her accent as her superpower, Amber aims to uplift her community by showing marginalized children that they are in fact, the world's future.


Volume 01 Issue 07

April 1st, 2019



---


I am a Dominican-American woman. I was born and raised in Washington Heights, a neighborhood in New York City on the island of Manhattan. I grew up just a few blocks from the famous George Washington Bridge and near the Washington Bridge that leads to the Bronx. No, I am not from the Bronx even though people always assume I am. My neighborhood is known for being predominantly populated by Latinos, mainly Dominicans.





I grew up in a single-parent home, but never felt like it because I had many parental figures. They say it takes a village to raise a child, and my village consisted of my mother, grandmother, grandfather, my mom's sister, and brother. I consider them all my parents and most importantly, my best friends. I attended private school from 3rd to 8th grade because my mom wanted me to have a great education, especially a Catholic one.

However, once I graduated, I attended a public high school in my neighborhood. The school I ended up, "GDubbs" as we referred to it, was one that was known for its bad reputation. In New York, the process of applying to high school involves filling out a sheet and ranking the schools in order of which you want to attend. The list allows you to rank 12 schools, but ultimately it is a computer system that places you in one of your choices. The last thing I expected was to end up at The College Academy, as it was nowhere near my top choice. This school was just one floor in a big building that was previously called George Washington High School, earning its nickname, "GDubbs."

While I was in high school, it became clear to me that I was one of the few students in my classes who cared about school. I cared about my grades and class, but even though I was one of the "good kids," I still hung out with the "bad kids." I still remember every parent-teacher conference where they would tell my mother how I was a great student, but always hung out with the wrong crowd. The people I hung out with were considered "wrong" or "bad" because of their circumstances. Some of my friends were in gangs, sold drugs, or got locked up, but I never judged them for their decisions.

Throughout my time in high school, I excelled academically and even graduated at the top of my class as the school's Valedictorian. From my graduating class of about 100 people, I am perhaps one of 10 students who have a bachelor's degree. What happened to my friends? The "wrong crowd"? As you grow up, everyone makes different choices and takes different paths, so some of them already have kids, some are working in retail, others are still in college, some are in jail, and one passed away.


---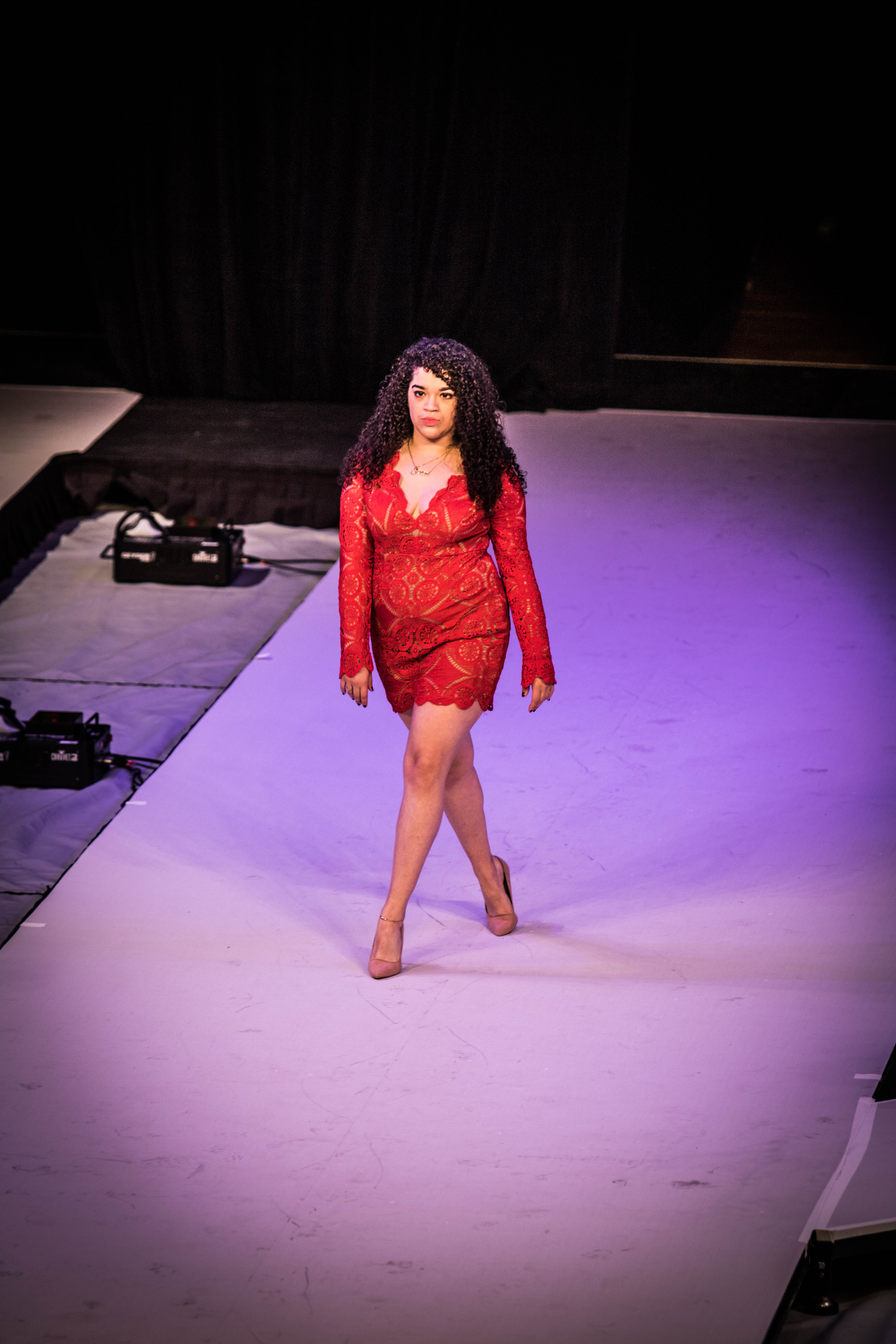 When I started college at Loyola University Maryland, I felt like the high school I went to was not the typical high school a Loyola student is known to have attended. Life hit me hard once I got to Loyola's campus, and I was very culture shocked. I felt like people looked down upon me because of my ethnicity, my upbringing, and definitely laughed at my accent. Despite my unpleasant encounters at Loyola, attending that school made me even prouder of my Dominican culture, curly hair, my ability to speak the Spanish language, and that
"accent"
- that was once the punchline of jokes.
However, this is not the only experience that helped me grow. In my junior year of college, I decided to study abroad in Leuven, Belgium and that was a huge, life-changing experience. I must say it was the hardest experience at first because up until then, I had never left the country without a family member. It took some time, but I ultimately immersed myself in another culture and language. While abroad I became more independent, learned how to enjoy my own company more, and to be more open-minded.
As a Dominican-American woman, I never thought I would be able to travel to Europe, so getting to study in Europe was a dream come true. I did not only learn more about another culture, but I did a lot of learning about myself as well. All of these experiences changed my "accent" so much that now today some people say they don't hear an accent. I know I do a lot more code-switching now as a result of my abroad experience, but the accent I once had is also what once defined me. Today you can still hear some traces of my accent, and people immediately pick up on my New York City roots, or my being a descendant of the Dominican Republic.
In fact, it was my experience with my accent and the speech therapy I received in the 3rd grade because of how I pronounced my words, such as"ax" instead of "ask." It was these experiences that made me gain interest in the field, as well as my aunt's advice of looking into that field by taking an introduction course. At first Speech-Language Pathology was the last thing I had in mind to major in. Then, I took my first course in the major, fell in love with it and the rest, as they say, is history. It is my experience that made me want to work with bilingual children and children who come from low-middle income backgrounds. I want to help them because I was once one of them.
I am ready for whatever comes my way. I am ready to go forth and set the world on fire as an actor on the stage of history - especially for my community members. If they cannot go out and explore the world, I hope that I, one day, will be able to be the liaison between a world of hope and opportunities and a community filled with many hopeless and less empowered members.
A few months ago, I began my journey as a graduate student at Florida International University located in Miami, Florida. With this diverse city as my new home, I have already started to work towards achieving my goals and obtained an internship working with bilingual children.
There is still so much I want to do, see and people I want to help. Until then, my tunnel vision is set on working with marginalized children who have speech-language impairments, and help them know that they are and will be, in the most positive and empowering sense, our world's future. My accent was a big part of making me the person I am today, but I owe the rest of the person I am becoming to my family, and the people I have met along the journey, especially my college friends. Thank you!
---
Ikechukwu: Betances! We've come a long way since linking up as young eighteen-year-olds starting college. I'm glad you want to be part of this magazine. Any tips on someone visiting NY for the first time? What are the good spots?
Amber: Yes lots of them! When visiting New York wear comfortable shoes - you will do a lot of walking. Don't be fearful when walking New York streets. And don't walk slowly either - the person behind you might get annoyed, because I know I do. Haha, the second question is a difficult one. I only say this because I was never one to really explore my city. I should've explored it more, but it's like they say, a real New Yorker has probably never been to 42nd street on New Year's Eve to watch the ball drop or any of the touristy things like that. I can say that in my 22 years of life, soon going on 23, I have never seen the ball drop on New Years in person. It's amazing on television though haha. If anyone is ever in my old neighborhood of Washington Heights, however, I can tell you the good spots there. Also, some things you should definitely do in New York City are watching a broadway show, going to 42nd street and experiencing the annoyingly crowded streets. I also recommend the MoMA (Museum of Modern Art) and getting yourself a real slice of NY pizza. In my hood in the Heights, I definitely recommend Casa del Mofongo (Mofongo House) for some good Dominican food and hitting one of our bars to experience our music and energy. And since it's a true New York staple, you can't leave the city without going to one of our delis and ordering a bacon, egg, and cheese. Believe me, they're worth it.
Do schools in NY really just place students based on their 12 choices randomly? Wow.
Yes, they do! Recently my little cousin applied and the system was the same. It really sucks honestly.
Are you still in contact with your friends from school? What about them made you hang out with them?
I'm in contact with my best friends for sure. They are more like my brother and sister. As to high school friends I'm in contact with like two of them but honestly, I talk to them once in a blue. I believe I hung out with the people I did in high school because I didn't see the bad in people, only the good. Plus the majority of my school population was Dominican so we immediately would have a connection.
Going to Loyola is definitely a culture shock. I feel like not only Loyola but the higher we go, the less of us we see. And it's something that some people find it hard to adjust to. When you came back from Belgium, I felt first-hand how much different you were...you really grew and came to your own. Could you talk a little more about your Belgium experience? What did you experience there? In what ways did you learn to be more open-minded? What did you learn about yourself?
Well, for one, all the signs I saw were in another language. The store signs and street signs were all in Dutch. In the building, I lived in (Loyola International Nachbahr Huis), there were 13 Loyola students and various other students from different countries such as Hungary, India, Spain, France, Germany, and Belgium. Living in a house with people from different cultures was interesting because sometimes you would hear them speaking their native language, or watch them cook their native foods. I was also able to experience more cultures in my classes because there were even more students from different countries. I became friends with a Brazilian girl and got to learn more about her and her culture. I had the pleasure of meeting a few Moroccan, Greek, Dutch people and many more. Being surrounded by many different cultures, languages, and people taught me a lot and it allowed me to be more open-minded. I was more aware of people's backgrounds, personalities, likes and dislikes, and religion. I had an internship abroad working at a high school in English classes. I talked to students about my personal experiences in the United States, I learned about theirs in Belgium and helped them with their writing of English. I found it interesting how these students were already speaking 3 languages almost fluently (Dutch, French, & English). Abroad helped me to be open-minded because of these experiences. I learned more about myself because I found myself doing things on my own more. I would grocery shop every week, I would sit down at restaurants and eat alone, or go have a beer alone. I learned that I was indeed able to hang out with myself and not be bored or sad. It was a great learning experience and I can't wait to go back.
What was the highlight of your Loyola experience?
This is a tough question. But, I must say the highlight of my Loyola experience was meeting the people I did. I'm thankful for my friends because they taught me a lot and really motivated me. But, I'll have to add that my abroad experience was another big highlight of my Loyola experience. I never thought I would be able to travel to Europe and study there. It was never in my plans when I first attended college until my sophomore year came around and it was time to apply.
Who, from your college friends, have impacted you? Debbie is someone who comes to my mind...could you speak on her and any others? (aka shoutouts)
Well, since you mentioned Debbie I'll start with her. Debbie was a HUGE impact in my undergrad. So much so that I still remember our talks about philosophy, our fun outings, and our weird moments. She always motivated me to study harder and work harder towards my next goal. Seeing her study hard and have so much on her plate and excel at it all motivated me a lot.
Other college friends that impacted me were:
Alicia
- another Dominican American woman who understood me. I'm so thankful for her because she understood where I came from, and we have the same cultural background so we were able to relate a lot, and she was always there to listen to me
Destiny
- mi Colombiana! An only child, a Taurus just like me, and for some reason we both are equally hard-headed even though I choose to deny it. She's one who understands my craziness and is always there for me no matter what.
Ike
- the homie since freshman year. I still remember eating crab for the first time during MAP and you were sitting next to me. Ever since I met you, we had this instant click that is unexplainable. You're a Taurus, like me, a great friend who always had the best advice, and one who loves to see others achieving their goals
Jordan
- it's just Jordan, it's just Jordan !! I miss seeing his happy face. He always made me laugh and is such a great friend!
Feramni
- I used to be mean to him freshman year and then I got nice lol. But, what I love about him is that he doesn't care what people say about him, he'll always be him no matter what. He's a real one and one who doesn't care what others think about him.
Mary-Elizabeth
- such a sweet and genuine friend. Always there to lend a helping hand, especially when I needed her.
Saadiq
- the sweetest man I know! Every time I see him he brings a smile to my face, and he is truly a great friend.
Alyah
- mi gran amiga! Glad to have met her during MAP, and being able to go abroad with her. Gracias por todo!
Casey
- I met Casey during summer orientation and she was so sweet. & when I received the email about my direct roommate and realized it was Casey I was so happy! She's someone that's always been there for me no matter how busy we get.
Ayana
- such an honest and great person! She was always there for me and always checked on me. I'm glad we got so close, I miss living with her and her coming into my room to throw herself on me.
Chris Mateo Roque
- realest man I know! I'm glad we got so close. We always had serious conversations about our life and future goals. I'm glad I was your mentor and saw you grow. You are really the brother I never had.
Joseph Aguilera
- another Taurus that I love! Joseph, thank you for always making me laugh, and always checking up on me.
Lemuel Bourne
- I remember meeting Lem and how quiet he was but once I got to know him he became the funniest person I knew. I still remember working on your Spanish homework haha.
Zalen King
- Mr.King always there to listen to me and such a genuine person. Such a great actor too! I can't wait to see where his talent takes him
Tino
- someone you can truly trust. Great at giving advice and keeping secrets. I miss our conversations.
Gabe
- my boy Gabe! From Baltimore to Italy, to NYC, and then Miami. He is truly an inspiration. What he's done with his talent, everyone is afraid to do. I'm glad to have him as a friend and that he is such a risk-taker.
All of these people have impacted me in one way or another. Of course, other people impacted me at Loyola but these impacted me the most. What is amazing about them are their goals in life, their backgrounds, and just how different we are yet sharing a few things in common. My college friends, unlike my high school friends, are lifelong friends that I am forever thankful for.
Lastly, shoutout to
Blaise
and
Kam
for all the work they're doing with ITM too! Good to see all of you putting in this work and realizing your dreams. I'm happy to have seen you all grow since freshman year.
Family is a big deal for you. How does it feel having your family as you continue to the next chapter of your life in Miami?
It feels amazing!! Currently, I'm living with some family members down here in Miami and my mom and grandparents moved to Tampa which is a 4-hour drive. I'm so happy to have them so close and have an amazing uncle and aunt who accepted me in their home while I study down here.
How's post-undergrad life treating you? What have you learned so far?
Post-undergrad life is treating me well, but to be honest I'm also having a difficult time. I'm thankful to be living in another city and be surrounded by so many vibrant Hispanic cultures and foods! I'm even more thankful for being in graduate school and having an internship. I know I'm heading down the right path. However, I have been having a difficult time because managing this has been tough. I knew once I entered graduate school I would have no life. I thought I would manage graduate school with the techniques I learned in my undergrad but I haven't. Now, I'm driving to school, my internship, and other places. During the weekends instead of going out and enjoying the weather or having fun all the time, I find myself going to my school library and studying for exams. At first, I would study near my house, but I had to stop because I was not focusing enough to excel as much as I normally do. But, I can happily say I am almost done with my second semester of graduate school and I have slowly managed and found a balance with school, and my internship. I still have a lot more to work on but I will be getting there slowly but surely.
Keep going! You're doing great. This is a new environment we're maneuvering, but as long as we work hard and take the extra mile things will work out. How is your internship with the children going? Talk more about that experience - what are you learning during this time.
My internship is going great! I work with children ranging from the ages of 2 to 5 years old. Most of the children I see are on the Autism Spectrum and do not have any words or have a very limited vocabulary so I'm working with their language and social skills. Most of the students I work with speak in Spanish because that is what their parents speak to them at home. This has been an eye-opening experience because I knew what to expect from my clinical experience however I thought it would be easier for me to manage but I have realized it's not. The reason why I say this is because I knew I would not only have to deal with children's speech but their behavior as well. I have had therapy sessions where the child is crying throughout the session because they either do not want to be there or they are tired. I have been advised to keep on with the session and teach the child that they have to interact. It tends to be difficult for me because I want the child to be happy and I want them to play with whatever they want. However, my job is to teach them to socialize or teach them language. I always need to be stern with myself and them. I also love my internship because I am using Spanish even more, and it is so helpful as it helps me improve my Spanish.
What do you enjoy most about your program right now?
What I enjoy most about my program right now is finally being able to apply what I have learned in class to what I do in the clinic, or being able to learn new information in the clinic and apply it to my classes. Having my clinical experience has helped me a lot and I'm thankful for it because I'm learning so much about the field and I'm loving it all.
Another theme that comes full circle is your accent and your study in Speech Path. What does having an accent mean to you now?
Having an accent doesn't mean much to me now. I say this because I have met so many people in my life and throughout the world who have accents. Something that I came to learn recently is that one can judge you for your accent but those people never stop to think that I am bilingual. I can have full conversations in both English and Spanish and write in both languages. However, I cannot say that my Spanish is as good as my English because I have not been able to receive full education in Spanish. But, I have learned the language from my family, had a Spanish teacher in the Dominican Republic when I would go in the summer and was able to further that by taking a Spanish class in high school and in college.
What are the biggest things your family has taught you?
Well, for one, education is the only thing that they will leave for me. I have learned that my education is what will help me pursue all I have wanted in life.
Second, family is everything. I have lost high school "best friends" or close friends, or college friends, but despite that, I have never lost my family. They have been there every step of the way and without them, I would not be where I am today.
You gave up social media for Lent - out of curiosity, may I ask why, and what your life has been different, if at all?
I gave up social media for Lent because I felt like I had never done it and I wanted to see if I could "survive." I put survive in quotes because our generation has become all about social media. I have realized that sometimes when I go out alone to buy something and I'm waiting to be attended by the cashier I just scroll down through Instagram or look at Snapchat just because I might feel uncomfortable. But when I was growing up I wasn't on social media so why have it now just to be distracted from the world? In those moments that I'm looking down at my phone while I wait for the cashier to attend to me, I can miss anything that goes on around me. For example, maybe the person behind me on a line wants to have a simple conversation while we both wait to be attended. It might sound stupid, but it's the little things in life that we tend to miss.
// In a way, the work you are doing is mirroring the crowd you grew up with. You are doing your part to help pave the way and open the doors for individuals who didn't have the same opportunity as yourself. It's systemic. And I love that you're working to give back to your community in NY + others like yourself around the world. I'm excited to follow you on this journey Amber. You mean a lot to me, and I'm blessed to have you in my life. Keep going!
Thank you so much, Ike! It's a pleasure being part of this magazine.
---
Update #1
December 15th, 2019
Dear Diary,
Wow, where to begin. Well first I am finally a second year in graduate school going into my second to last semester and I must say graduate school has taken over my life. However, despite that I have gained a great amount of experience between my clinical practicums. I have been placed in a private practice working with children, hospital setting working with children, and lastly a hospital setting working with adults. With all these experiences, knowledge, and eye-opening moments I have found myself becoming a fond of the adult population. These experiences have been wonderful, and I now do not know where my first job will be. This is because I love both the children and adult population. I still believe that marginalized children who have speech language impairments are our future! However, while working with the adult population they taught me a lot about life, school, their cultures and best of all they helped me in improving my Spanish because everyone I met would have different words and phrases from their country which I never heard of. I love the Speech world, I would love to talk about it in details but I believe people would get lost in the terms I would use. Just know I'm glad to have chosen this path. I am very thankful for my graduate school journey and for the friends I have made in class and in clinic.
Graduate school has also taught me to live more in the moment. When I was interviewed for ITM, Ike asked me what I gave up for lent and that was social media. Well, I am proud to say I "survived" without it! So much so that once lent was over, and I reopened social media I closed it twice more after. I have decided to be on and off of social media because I have wanted to focus more on my schooling and internships. Doing so has helped me be a much better person and get to know myself even more. Last update about me is that I am living between Miami and Tampa. I come to Tampa during holiday breaks. I do miss New York City but I'm happy to have moved. I will for sure be going back to visit my city from time to time. But, once I graduate I am not sure where I will end up if in Miami or in Tampa only time will tell.
With love,
Amber Betances