// 58 Countries and Counting
A first generation American originating from the Philippines, Ines recounts how a family circumstance inspired her to use traveling as a vehicle to make the world a better place, one country at a time.
Volume 01 Issue 01
January 6th, 2019
Side A: 58 Countries & Counting
Ever since I was a little girl, my mom ingrained in me that the best form of education is traveling. Experiencing other cultures and witnessing other walks of life molds an individual in a way that very few other outlets can. I have been blessed with a life that has allowed me to travel to places that the majority of people my age can't even fathom. Thanks to the "Been" app, I calculated that I have been to 23% of the world by the age of 24. Ask any of my friends to tell you something about me, and one of the first things they would mention is how much I travel. However, very few know why this is the case.
When I was eleven, my dad passed away from a brain aneurysm. He was four months away from retirement and only in his 50s. He wasn't able to enjoy the fruits of his labor because his body literally didn't know how to function without the stress of work. Shortly after, my mom discovered she had thyroid cancer. By the grace of God alongside amazing doctors, she was able to overcome it and is cancer-free to this day.
Needless to say, both experiences taught her that life is too short to not live it to the fullest; at 60 she has been to 109 countries and counting. My mom planned to travel with my dad after he retired, but since then I have become her travel buddy.
Through the hardest time in my life, I have gained so much to be thankful for. I have an amazing relationship with my mom, an ability to experience the world that goes far beyond my hometown, and a view on life that puts the highest importance on doing what I love with the people I love. With all the wealth I have acquired at such a young age, who would I be if I didn't want to share it? I recognize my privilege and the blessings God has put in front of me. I would be doing a great disservice if I chose not to share it with the world.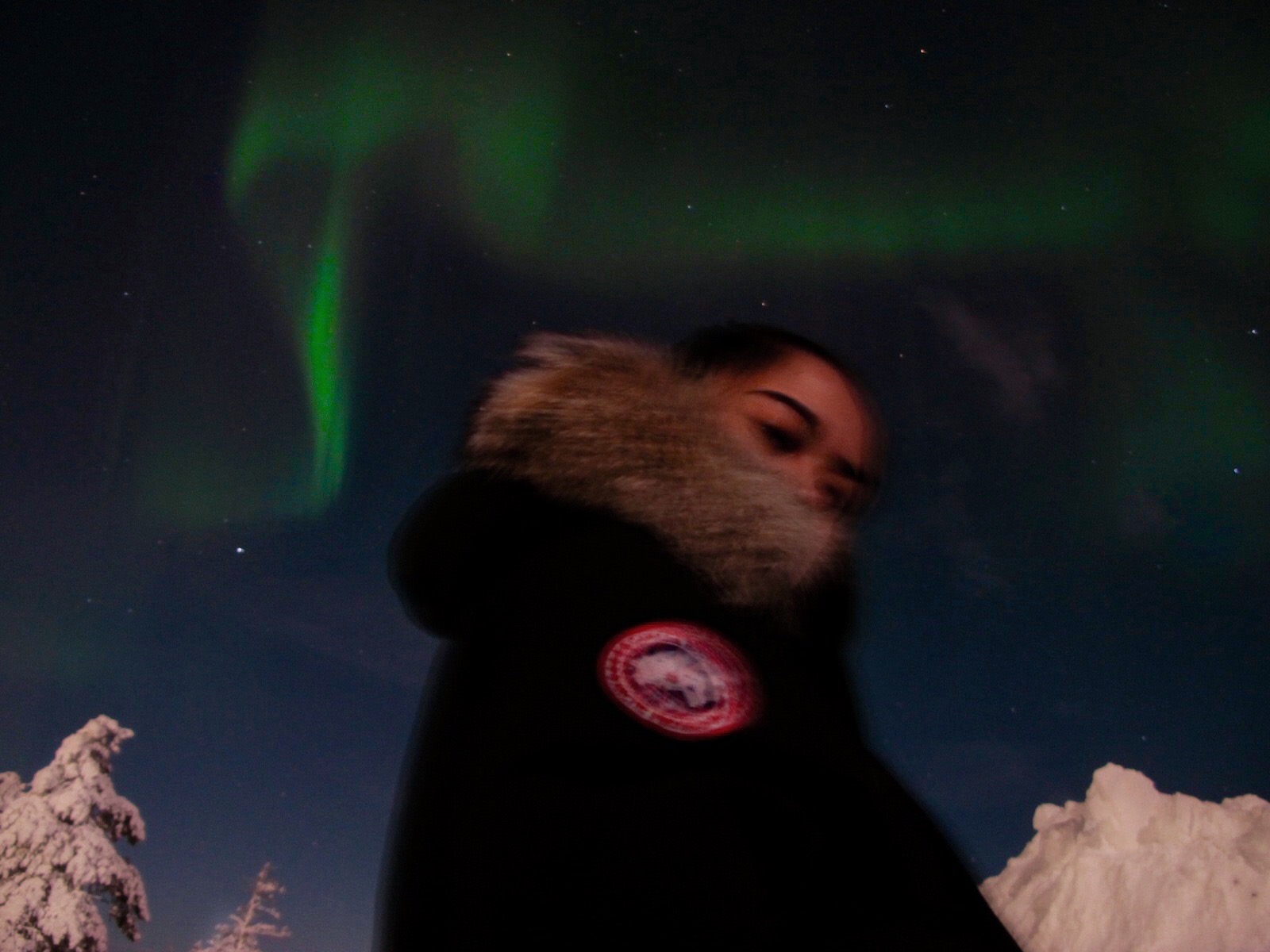 "My mom took this photo. She made the exposure longer to catch the northern lights.
We had to stand still for like a minute in below freezing weather.
It was a dope experience, it's one of my favorite photos."
It is because of this that my ultimate goal in life is to be the host of a travel show (even if it was only about the Philippines, which is where my family is originally from). I have been brainstorming a way to mix my passion for traveling with a career that I not only will love but would allow me to give back. Admittedly, even though I'm still figuring out all the things I want the show to be about or even how to get there, I know that I would not want to shy away from the areas countries may need help in. Whether it be colorism, education for women, displacement and destruction from war, etc., I will do this in the hopes that it sparks agency in someone watching who may want to alleviate this adversity to make the world a better place. I have seen the beauty of the world, and it would be such a shame for that to be overshadowed, or worse, ruined. My goal is to bring all this and more to the surface so that people who don't have the ability to travel the world can realize that they still have the ability to change it.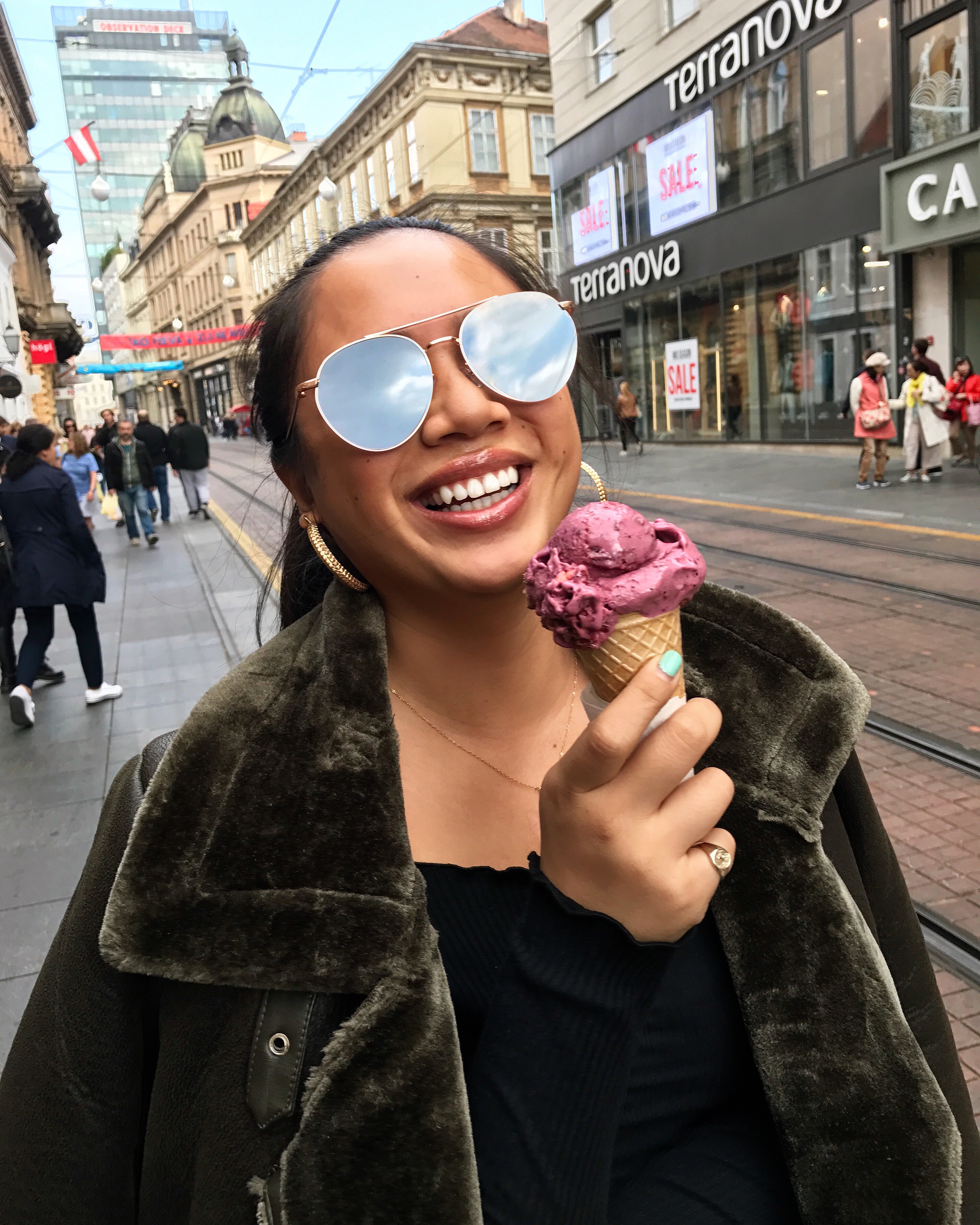 ---
Side B: The Art of Thrifting
I see fashion as a way to express and set myself apart from the rest. If I had to pinpoint my style, I would say I gravitate more towards a twist on streetwear. However, a great thing about fashion is that what you wear does not have to be confined to just one genre. A person's style can change every day depending on the vibe they are going for. I believe there is nothing wrong with that. In fact, another lovely aspect of style is just how dynamic and fun it can be.
Even though I have a pretty eclectic sense of style, I know that I need to feel comfortable in whatever piece I get. I choose pieces based on the fact that I know I would want to use them forever; it is not necessarily based on whether or not they will never go out of style. This is to say that I am big on staple pieces that I can mix and match with the things I already have in my closet. Whenever I fall in love with a piece at the store, I ask myself whether or not I would be able to use it for many seasons to come.
Something I would like to stress is that fashion does not need to be expensive. In fact, it really shouldn't be, for there are so many more important things to be spending your money on. My mom always taught me that in life you should put a value on experiences rather than material goods, and I think this greatly relates to fashion. Why would I spend a band on chunky Louis Vuitton kicks that'll be out of style in, hopefully, a year from now when I could use that money on tickets to the Philippines to be with my family? Not to mention actual necessities such as groceries or filling up my MetroCard. Even though I wouldn't say I'm very big on trends, something I'm happy that is coming "in style" is thrift shopping or "thrifting" as the youths call it.
Thrifting is great because it is sustainable as well as a way to not feed into capitalism; not to mention you get to save a lot of extra mula. Thrifting is an outlet I use to get out of my comfort zone in order to find pieces that I wouldn't normally find. Rarely can you go into a thrift store having an exact idea of what you want to get and that is just the beauty of it. Whenever I travel, I try to hit up at least one thrift store as a way to expand my style and find pieces that I most likely would never find. Thrifting may be a trend, but I hope it is one that is here to stay. With that being said, remember that for many people thrifting is not a luxury but a necessity, so please always be respectful in how you treat the clothes and what you say about them.
When it comes to where I get my inspiration from the most, I tend to use outlets such as Instagram and YouTube. If you want to dive into the world of fashion and developing your own personal style but don't know where to start, I strongly suggest following or subscribing to people who best fit your vibe or the vibe you would like to achieve. Like I said, I love amped up streetwear and I find that a lot of the Social Media Influencers I follow reflect that kind of style. So, if this is the type of style you'd like to achieve too, then look no further! Here are some of the top people I follow on Instagram and YouTube in no particular order.
---
//
FASHION MUSES.
---


Fellas! Don't worry I didn't forget about you. If getting inspiration from women is not your thing, which I highly suggest you should unpack and reconsider, here are some people I follow that you may like as well:




Although, like my style, this was a little all over the place. I hope you still got a sense of my style, how I have developed it, and where you can go to develop yours. If there is one thing about fashion I could leave you with it is that first and foremost you should wear what makes you happy. Take risks if you want to, take it as seriously as you wish, and just remember that, at the end of the day, they're just clothes.
---
Ikechukwu:
What's your favorite outfit in your closet right now?
Ines: I don't think I necessarily have a favorite outfit but my go-to pieces for the wintertime are any of the 98 turtlenecks I've hoarded throughout the years. Basically my winter aesthetic is that iconic picture of The Rock from the 90s paired with black timbs and an oversized winter jacket. Not only are turtlenecks super versatile, but they actually protect your neck from the cold making them practical too. Now that's a win-win if you ask me!
Do you remember the first time you traveled? Where did you go, and what is like?
I was actually less than a year old the first time I traveled, and it was to the Philippines. I don't quite remember it for obvious reasons, but whenever my mom hears a crying baby on the plane, she always boasts about how I was so quiet that no one knew I was even on the flight until we deplaned. I'm never too sure what feeling she's trying to draw from me; I think it was more luck and continuous feeding than me being an extremely well behaved newborn.
You've visited 58 countries and explored 23% of the world. What places (that you haven't visited) is at the top of your list?
In no particular order: Madagascar, Costa Rica, South Korea, South Africa, and Jamaica
What advice would you give to someone who's about to travel to a foreign land for the first time?
It may be an obvious one but the most important advice I could give someone is to DO YOUR RESEARCH. Also, by research, I don't just mean cities' most instagrammable places or the top five things to do on TripAdvisor. Find out what the locals do, create your own itineraries, and avoid bus tours if you can. Learn about its people and their cultures and be willing to immerse yourself into a way of life that you might think is especially different than your own. What's the point of going to a foreign country if you're just going to live the way you do at home? Moreover, it's also important to be respectful and mindful when somewhere new. One of my biggest pet peeves is when picky eaters say that a certain food from a different country is nasty or gross just because it's different from what they are normally accustomed to. Even though you may mean no harm, it's better to just say nothing at all. Certain foods, customs, traditions will be different than yours but guess what- that's what makes this world such an awesome and beautiful place.
If you could bring three personal items with you to each country you visit, what would they be?
Film camera/disposable camera
I've really grown to love taking pictures with film especially when I travel or go to concerts or out with friends and family. I love the fact that you don't see the pictures until you develop the film and how imperfectly perfect the pictures come out; basically I love what the two most annoying aspects were for our parents. Taking pictures with film when you travel is great because it's as if you get to relive those moments in time.
Ask any of my friends or family and they will tell you that I bring my speaker EVERYWHERE even if it's just an overnight trip. I grew up in a music-filled home and so music has been important to me and a big part of my life ever since. It's so hard for me to do things like take a shower, clean, or cook without it. Plus, you never know when you're going to have an impromptu dance party or Rihanna's album is gonna drop and you need that quality sound.
For people who don't know, a tile is Bluetooth tracker that you connect to your phone and can be put anywhere (keys, wallet, etc.) to find your phone or said items. This is one of the newer additions to my life and truthfully I don't know how I lived without it. Not that I lose things often, it's just so nice to have that peace of mind. Also, when you misplace your phone, it makes it go off even when it's on silent/do not disturb which is just a fantastic feature.
Your middle name is Guadalupe, in reference to Our Lady of Guadalupe. You mentioned how you make annual pilgrimages to Our Lady of Lourdes in France as well. You clearly have roots tied to Catholicism and religion. How was your faith shaped you?
Coming from a devoutly Catholic country and going to Catholic school all my life, my faith has always been and will always be an integral part of who I am. However, there are definitely aspects I stay away from. I believe that, as long as it's not at the expense of someone else, everyone deserves happiness. Therefore, Catholicism to me is not a method to ban or control others. Period. I have seen and learned ways in which people have used religion to justify their unjust beliefs or behavior. Some examples of these beliefs or behaviors include control over a woman's body, homophobia, or aspects of colonization. Because of this, I've been more inclined to explore what faith means to me, rather than being told what it should be by others. I pray often and when I do I rarely ask for things unless it's for others, the strength to trust in His path, or the clarity in what to do next. My faith has taught me to trust the process and to see every setback in my life as an opportunity for growth. Whether I am going through the best time of my life or the worst time, I need to believe that there is a purpose. My faith is something that is growing and evolving every day. It gives me a drive to not only be better for myself but for others as well.
Who inspires you in life? Who do you look up to?
As cheesy and cliche as it sounds, the person who inspires me the most is my mom. She is the most interesting woman in the world as far as I know. I feel like there is nothing in this world that she hasn't done and she has a wealth of knowledge about anything and everything. She has the ability to light up a room and turn a stranger into a best friend in a matter of minutes. Besides all this, what really inspires me about my mom is her kindness, generosity, and philanthropy. She has taught me that, the more you give to others, the more wealth you shall receive and I truly believe that. To be half the incredible human that she is would be an amazing achievement.
When we were speaking your future, we talked a lot about internal vs. external pressure. You graduated college a couple of years ago, and instead of following the traditional path of getting that first job and working towards your career, you have been spending these past years traveling and reconnecting with your family and roots. What is pushing you to follow your own path and vision of success, instead of what path society sets upon us?
I think I should start with a disclaimer that I would be lying if I said I've ever been 100% sure that I've made the right decision or that I don't struggle or feel a sense of guilt with whether or not I have chosen the right path. In many ways, I feel undeserving of all the blessings and opportunities that have come my way. With all that being said, during this time in my life, there are several things about it that I have grown to understand; whether or not I truly accept them is another thing. I mean this in the most humblest of ways, I am incredibly blessed to be in a disposition where I have the ability to choose my career and when I want to start it. This is one reason I don't trip when I apply for something and I get turned down or ignored (I've been faced with rejection in this dreaded job hunt more times than I'd like to admit). Something that's also helping me to not get so wrapped up in negativity is the fact that I have literally been reassured countless times by countless people that I have made the right decision. And when I say countless people, I'm talking everyone from my friends to my relatives to my mom's/sister's/cousin's friends to some elder people I just met who asked me what I do for a living - EVERYBODY. I can't tell you how many people have told me how they wished they took a longer break or one if any in between school and work. I feel like one thing that pushes me most is that I know this is a phase in my life that will ultimately only last as long as I let it - and I will not let it last forever. I need to enjoy it. I need to savor it. I need to trust that this is where I am meant to be. I firmly believe that my faith is one thing that gives me the reassurance to know what I am doing is right. After all, I have not only been given this unimaginable life but the consciousness of it as well. I feel like God is letting me have this rare time where I get to be with my loved ones from halfway across the world for extended periods of time, let alone travel the world in general, because He knows I will repay it tenfold in the future. I have big dreams and ideas of making this world a better place and I know that if I work hard I will be able to achieve them.
// AMEN. WE WILL BE TUNED IN TO YOUR JOURNEY. AS ALWAYS, STAY BLESSED.