Kassandra Mendez
// La Pura Vida En Los Estados Unidos
Thrust into America to find the "American Dream," Kassandra sheds light on how the 2016 United States Presidential election impacted her to use her love of books and writing to become a voice for those who are silent not by choice, but by fear.

Volume 01 Issue 03


February 3rd, 2019

---

One of my earliest memories is coming into this country at about the age of four. I was sitting on my father's shoulders as we ran through the brush that covered the border of the United States and Canada, making our way as sneakily as possible into the U.S. chasing that "American Dream" people always hype so much. What people don't know is that there were more ways than one to make it into the U.S. when the government shut down people's opportunities at attaining visas. I remember how panicked my dad was when the group of people who were with us dispersed as Canadian rangers shined their flashlights towards us. I remember sitting in a waiting room after they arrested my father and put him in holding before deporting him back to Costa Rica. I remember being terrified and alone—and the kind ranger who gave me a dollar to buy a chocolate bar from the vending machine. Most of all, I remember how happy and relieved I was when my mom picked me up and brought me with her into the United States, where I would end up living for the rest of my life.

I can vividly remember the day my mom passed the citizenship test and stood before a court to swear her oath to the United States. I was about 8 years old as I sat with her in the lobby of the USCIS as she waited for her turn to take the test. Her leg was shaking nervously as she was rattling off questions and answers to me, asking me to correct her English. I sat in the lobby with my game-boy playing a Harry Potter game completely unaware of the importance of the meeting my mom was in. When she came out, tears brimmed her eyes but a huge smile split her face—I remember being confused, why was my mom crying? Why was she still smiling? The weight of that day didn't hit me at the moment. I didn't understand what the big deal was, why it was so important that she passed the test, that she was granted citizenship, that in turn, I was granted citizenship as well.

It's memories like these that have shaped me to appreciate every opportunity I've had in my life and acknowledge how those opportunities and privileges have put me in a position to help people that may not have been as lucky with the system set in place with the United States immigration, or any branch of the United States government as a whole.

Growing up as an immigrant, as a member of one of the many marginalized communities of the U.S., helped to foster within me a greater sympathy with all people who may be systematically oppressed. I've always struggled with the notion that one person can truly make a change, and growing up one of the things that were always in the back of my mind was how I could become one of those people.


I learned
quickly that a big aspect of activism and service is using the abilities you excel at to vocalize the problems and call for action from society. It was after reading Audre Lorde's poetry and prose that I realized that literature is a medium through which people can fight for equality and equity, where people can spread the word about the unfairness that pervades our society, and where people can reach audiences from all over, of all kinds of backgrounds, and change the way that they think just with words.
I'm currently double majoring in English and writing. As a kid, I used to hide behind books everywhere I went. In class, I would push my textbooks to the edge of the desk in front of me, angling it perfectly so that I could slide a novel in the space between the desk and my thighs. I spent the majority of my classes reading instead of paying attention to the teachers. I walked through the halls with my nose turned down, bumping into people, my focus solely on the world of the characters. When I would get in trouble with my mom, she would threaten to take my books away, not video games, not television, but the books that littered my room. When my bedtime came around, I would hold a flashlight under the covers to finish reading. For as long as I can remember, literature has been my outlet, it's been my home, and when I realized I could write and that I truly enjoyed doing so, I was so excited to study it in college and to maybe make a career out of it.
---
It's funny—
I've always wanted
to be a writer, to go into a career where I wouldn't be stuck in an office or have to do anything other than reading and writing. I hoped to go into journalism or publishing, always with the intention of writing on the side. This goal changed drastically with the outcome of the 2016 election. I know it sounds ridiculous, so many people have said that the election of the 45th president changed them forever, even saying it, it sounds like a cheesy cop-out. The truth is, I had never been concerned with politics. I was always aware of inequality and enraged by how it litters the history of the United States; however, I was not educated about politics or the problems with our government and society.
This election changed everything for me. Along with the police brutality highlighted over the past few years and the deportation of people close to my family,
I realized
that writing could be an outlet, but it could not be the only answer for me.
I decided
that I needed to go into a career where I could help as many people as possible, where my voice could become the voice for those who are silent—not by choice but by fear.
I realized
that one of the best ways to do this for me—somebody who has always been passionate and argumentative, someone who refuses to back down—would be to become a lawyer, more specifically, immigration and civil rights lawyer, or a criminal lawyer, or a constitutional lawyer. I honestly don't know where law may take me, but
I know
that I want to use the platform to help people, to fight against unfair immigration laws, to fight against police brutality, to fight against the prison system, to fight against the response people face in rape cases, to fight
FOR
anyone and everyone who is silent for fear.
I also know
, however, that despite the shift in my goals,
I plan
to always write about topics that matter.
I hope
to send pieces into newspapers and magazines, pieces that highlight and call out oppressive systems in society, pieces that highlight and applaud groups and individuals that fight for change.
I also hope
to write novels, about any and everything. My first book, hopefully, will be a biography about my mother; the most incredible woman and the person I will
ever
know. It sounds so cliché to say that my mom is my hero, but the life she has had and the place that she is in now is a testament to her intense dedication and confidence. I could go into detail about her life, but it would take me forever, so much so that it would take up a whole novel really. In short, she got married at 17 and moved to the U.S. in search of the "American dream," she suffered a lot as a child, she was a victim of multiple car accidents that left her severely injured, she fought cervical cancer and won, she raised me by herself, and throughout it all, she has always been the epitome of genuine happiness, never once did she allow the challenges she faced to keep her from succeeding and becoming a citizen, a homeowner, and a successful professional.
Honestly, she is the guiding force of my tunnel vision. Along with my father, who I was unable to grow up with due to immigration limitations, she has molded me to become the person I am today and the person I hope to become. And hopefully, someday
I will
be a woman like her, a luchadora--
una heroina.
Hola Papito,

¿Cómo estás? ¿Cómo sigue la vida cerca de la playa? Aquí está haciendo tanto frïo que incluso siento que me voy a congelar si salgo.
Cuando el clima se pone asi, extraño el calor de Costa Rica.
Hasta elegiría estar en Guapiles sin aire condicionado o ventilador en la humedad sobre estar aquí en temperaturas bajo cero.


Hace tres semanas comencé mi ultimo semestre de la Universidad.
Solo me falta cuatro meses y me graduó.
Estoy súper feliz de poder terminar, pero también súper nerviosa sobre que hacer y adonde vivir el año que sigue.
Si todo sale como me lo e imaginado, espero estar en Thailandia de nuevo, empezando el junio de este año.

Un día, cuando todo sale bien con los papeles, quiero compartir la belleza de Thailandia contigo.
Los extraño a todos y les mando besos y abrazos.


Con Mucho Amor,
Kassy
---
My time in Bangkok, Thailand:
In 2017, I had the opportunity to study abroad in Bangkok, Thailand for 6 months. It was probably one of the more incredible experiences I have and will have, in my life. I got to meet monks and see the Big Buddha, and take a mud bath with elephants. And even though I was able to do some of the things I had always dreamed of, the experience was also a bit difficult for me due to my anxiety. I've battled with depression and anxiety for most of my life-- and the anxiety was at an all-time high living in a new country far from my family and friends. I spent a lot of days and nights in my room, literally balled up in tears, terrified of interacting with new people and facing a different environment. It was a 12-hour difference to stay in contact with my family and to keep up with my friends.
I was so nervous to be in a group of people, 27 of us, all from different "social circles" with different interests. I spent the first three months having an average of three anxiety attacks per week, constantly calling home and calling my roommate and best friend, Rachel, who was in Australia at the time. I think that I did a decent job of hiding the truth from others because I didn't let the anxiety keep me from going on our first group trip to the Ko Samet island or from enjoying my experience staying in a floating hotel on the River Kwai. Eventually, I began to find comfort and solace in some close friends I made in the group as well as just knowing that I had the freedom to explore such an incredible and culturally rich part of the world.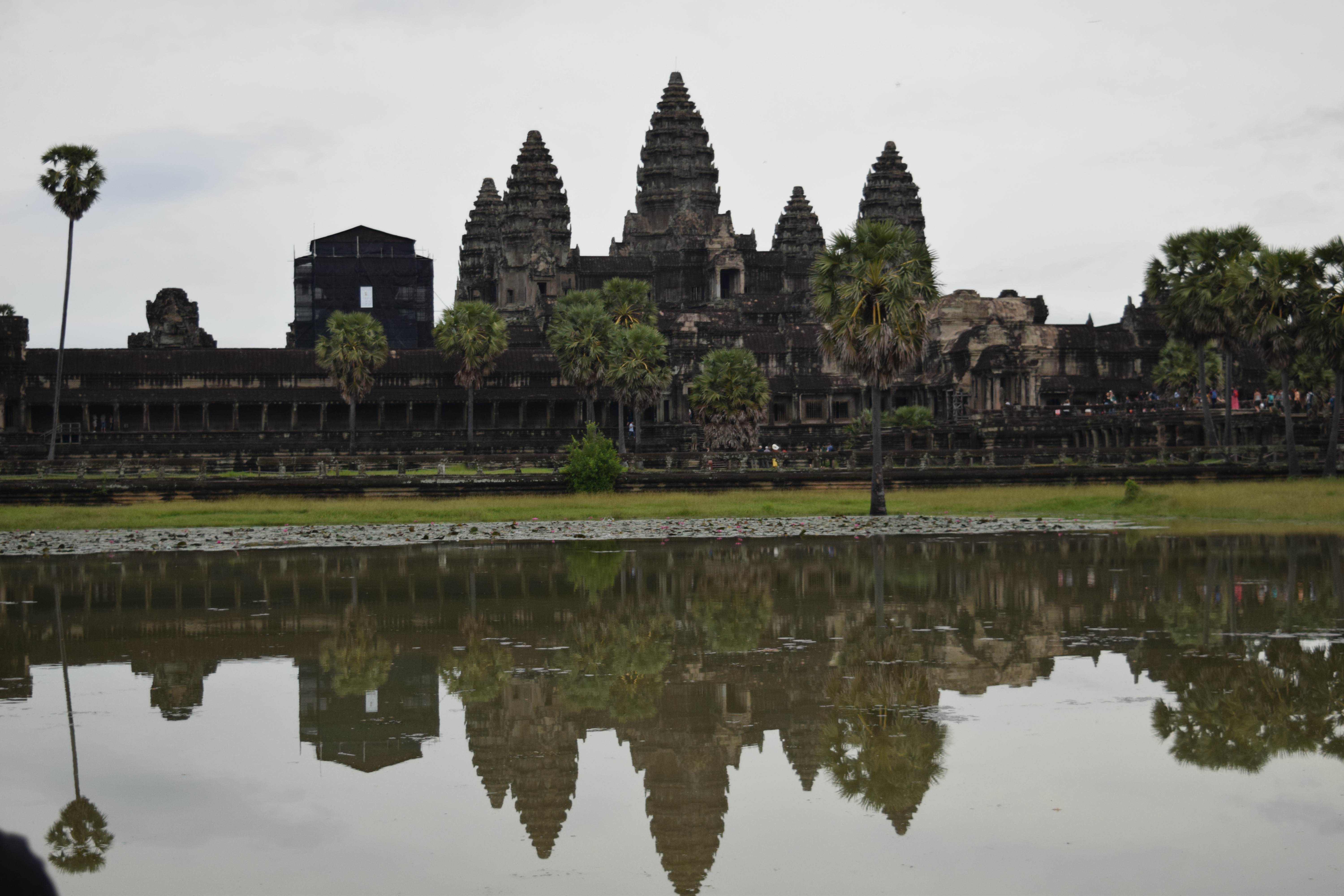 I was able to explore Bangkok with my two closest friends abroad, people that started as "abroad friends" and soon became some of the most important people in my life-- am I right ladies?
We
ate at almost every single vegan restaurant that the city has to offer ( thank you, Taylor) and spent our weekends exploring different corners of Bangkok.
We
went to Ko Samet and the beautiful beaches of Phuket where we took a day boat trip to the Phi Phi Islands.
We
dove off of boats into jellyfish infested water, something that was not only fun and new but especially terrifying for myself because at 21-- I still did not know how to swim.
We
went to Siem Reap, Cambodia and stayed at the most entertaining and welcoming Hostel where we partied with people from multiple countries.
We
got to see the wonder that is Angkor Wat and took a boat tour of a village on the water where bright colored houses stood strongly upon stilts and the community members rowed their homemade canoes from house to house.
We
went to Vietnam, which quickly became my favorite place in the world, and had the opportunity to visit Hanoi, Halong Bay, and Sapa. I discovered a newfound love and appreciation for hiking after our 4-day hike through the mountains of Chiang Mai and chose to do a similar trip through the rice fields of Sapa.
We
kayaked on the open waters of Halong Bay and partied on a "booze cruise" to relieve the stress of the oh-so-difficult classes.
We
went to Bali, Indonesia and got stranded on the island when the airport closed due to a potential volcanic eruption.
We
laughed together as monkeys hopped onto our shoulders and they laughed at me while I screamed at the feeling of their creepy little toes digging into my skin and the sound of them munching on bananas near my ears.
And
we
closed out the time abroad exploring Hong Kong together, spending more money than necessary on "Hong Kong" clothing from a Zara.
Eventually, I found more friends in our group and realized that I had wasted so much time being anxious about not fitting in that I missed opportunities to explore with different people. But I had also realized that life isn't about regretting things in the past, it's about enjoying what I got to do and finding ways to make better decisions and push myself to go beyond what feels comfortable in the future. I also realized that, although my anxiety makes things difficult, I cannot let it hold me back from making friendships or discovering new things because there is so much beauty in this world to explore and I have the privilege and (some) freedom of being able to travel.
---
Ikechukwu: I still remember the first time I heard your poetry. It was in Karen Fish's Intro to Poetry class. I was daydreaming until my ears perked up when I heard your poem on blood and drugs. It was hauntingly beautiful and poetic.. Do you mind sharing this with everyone?
Kassy: Sure! I love that you appreciated it because I remember being so embarrassed to share something so personal with a class full of people I didn't know. But if there's one thing I've learned, it's that life is all about leaning into discomfort.
"Blood and Drugs" Poem for your Q&A

With a prick that goes beneath the surface of your skin, you pick a vein press down with your thumb, releasing

liquid love.

It bonds with the blood cells, that flow throughout the body, making their way to your brain.

Euphoria

washes over you rapidly. A fog that veils reality, distancing you from the pain.

Crash,

the withdrawal sweeps under you, losing balance, your body falling, your mind seizes up.

Reality

is sick, cruel, unfair and just as quick as everything started, there comes a sudden

end.
The immigration process is expensive and tedious. It's
broken
.
I was just like you, sitting with my GameBoy as my grandmother took her test to become a citizen, not realizing the gravity of the situation. What ended up happening to your father?
You and I were definitely meant to come into each other's lives! It's crazy to think of how important the situation was and how I had no appreciation for my mom's accomplishment.
When I was around 4 or 5, my father and I came into the U.S. illegally through Canada (after going from Cuba to Canada to then come through the Canadian/U.S. Border). We were both caught by immigration and my dad was imprisoned for a few months. My grandmother, my father's mom, came to the border to pick me up because she was legally in the U.S. and my mother was still undocumented. During this whole process, my grandma lost her papers and was deported and my father was deported as well after a few months in jail. It's been around 17 years since he's been in the U.S.
Currently, however, I am beginning the process to petition for his entry into the country as a resident. In the U.S. a child of an immigrant who has citizenship can request for their parents to be given residency once they turn 21. Hopefully, my dad will be able to come back within the next two years, if only to visit and spend some time with me here-- allowing me to treat him to a trip for once.
The 2016 election really marked a shift in America; it affected everyone differently. It either gave people an outlet and platform to spew hateful words and actions or made people realize the importance of voting and education to never allow this to happen again.


I remember the next night, my friends and I went to a Young Thug x 21 Savage concert, and all the crowd was "F Donald Trump." It was, and still is, tough times. Especially with the government shutdown. What are your thoughts on that and the current state of America?
There was so much anger immediately following the results. Actually, my birthday is November 9, so I woke up on my birthday to the WORST present America could have given me-- I spent most of the day in tears.
Honestly, I could go on forever about what I think about the state of this nation. I'm not happy with it if anything-- I'm pissed. I'm pissed that we could just sit back and watch rights being infringed upon and people being physically and mentally harmed by people in red baseball caps. I'm pissed that students cannot feel safe in schools and that the government is doing little to change the laws about gun control. I'm pissed that the Trans community has to deal with the Supreme Court's recent decision and that the entire LGBTQ+ community has to put up with unfair judgments and bullshit. I'm pissed that someone could put a noose around the neck of a queer person of color and physically harm him as they yell racial and homophobic slurs and that the media addresses it as an "apparent" or "possible" hate crime. And to top it all off, the White House has nothing to say about these blatant supremacist attacks.
But all I can do is educate myself and others and work at being an advocate and activist. And realize that there are good people, amazing people, with big, accepting hearts out there who want to do the same. I have to have hope that hate can be driven out, because if not-- that's a dreary outlook on our future.
Who are your favorite poets and authors, if any?
This is a tough question because it's so hard for me to pick favorites. I get so attached to everything I read, even if it's Twilight.
I would say that I am a very very big Jane Austen fan, and I know most people probably roll their eyes at a female English major that likes Jane Austen, but her writing is my favorite. Obviously, I'm a big Harry Potter fan, so J.K. Rowling is one of my heroes.
In terms of poetry, Rupi Kaur is amazing. I will always, always be in love with Audre Lorde's words. Claudia Rankine's, Citizen is incredible-- and I think everyone needs to read it. I also am a big fan of Romantic Era poetry such as Percy Bysshe Shelley and Keats and Wordsworth. But I am open to all!
What were your favorite books growing up? (if you remember)
HARRY POTTER! I am such a BIG Harry Potter fan, I even have the lightning bolt tattooed on my wrist. I do remember, however, that as a child-- my favorite book was Where the Wild Things Are, it gave me such an urge to explore and discover new things. I also went through a big dystopian novel phase: The Hunger Games, The Mortal Instruments, The Maze Runner, you name a YA Dystopian novel pre-2016, I've probably read it.
What do you love the most about reading and writing?
I think my love for words stems from the way I manage my depression. I have dealt with depression for most of my life and when I feel lonely or in a major rut, I find comfort in a book. It sounds like a cliche, but every time I read a book I get pulled in and feel like I'm a part of the community within the lines on the pages.
Eventually, I realized that as much as it helps me to read-- it helps me even more to write, to get my emotions down on paper and to explore where the feelings are coming from. I love to write and I'm so thankful for the opportunity to explore different kinds/styles of writing at Loyola.
What are your favorite books of all time?
Crime and Punishment by Fyodor Dostoyevsky
Pride and Prejudice by Jane Austen
The Count of Monte Cristo by Alexander Dumas
The Stranger by Albert Camus
Kindred by Octavia Butler
EVERY SINGLE HARRY POTTER BOOK!
Why did you pick Thailand out of places to study abroad?
When I first came to Loyola, I was hell-bent on going to Australia to study abroad. I'm so ridiculously happy that I changed my mind because I couldn't see myself anywhere other than Thailand.
Ultimately, my decision was based on the fact that I definitely did not want to go to Europe. Europe seems incredible and I hope to visit someday, but I wanted to fully immerse myself in a new culture and get to know my new home from top to bottom. Australia seemed like a good place for that as well, but I also wanted to explore other countries and that's how I found Thailand. I've always been interested in Southeast Asian Culture and architecture and religions and foods and it was the perfect opportunity to explore. It also didn't hurt that it was the cheapest program!
How is the lifestyle in Thailand different than America?
It's so different. One of the main things that I noticed and appreciated wholeheartedly was the peace at which they live their lives. In America, it seems like people are always in a rush to be somewhere as if everyone is always running late and there's a sort of air of stress looming over them. In Thailand, people move with such a graceful sort of fluidity that the peace is palpable. Being there gave me a new appreciation for patience. Now, whenever I feel rushed or stressed I try to channel that seemingly worry-free lifestyle and remind myself that I should not rush life because the beauty is in living in the moment.
What did you learn the most in Thailand?
I guess this goes along the same lines of what I said for the last question but, there is one other thing that I learned (at least one other thing that has stuck with me still) and that is: I am capable of things I never realized. I powered through my anxieties and pushed myself to do things that terrified me. I got to explore a part of the world that is unlike America and Costa Rica in so many ways, and it's just the start of everything.
You're in your last semester of college -time really flies. How are you feeling? Are you excited to shake the world?
Were you as overwhelmed as I'm feeling right now?
I'm just so nervous and so excited but these feelings mesh together to create a sort of bellyache that refuses to go away. I love you for thinking that I can "shake the world" but all I can hope for is to someday make it to law school and someday be published.
Most definitely I was overwhelmed - when you spend over two decades of your life in a routine, it's hard to shake that off and start life afresh. It feels weird knowing that's no grade or professor who can hold me accountable. Life is what I make it. Which is daunting but amazing at the same time. I was given a new canvas to paint on. You will learn to love that bellyache over time.
// I LOOK FORWARD TO CONGRATULATING YOU ON YOUR ACCEPTANCE TO LAW SCHOOL, AS WELL AS BEING AT YOUR FIRST-EVER BOOK RELEASE. STAY BLESSED KASS.